Majestic Earth Noni Goose Juice

Dr. Wallach's Majestic Earth Noni Goose Juice is a blend of more than 70 organic plant derived liquid minerals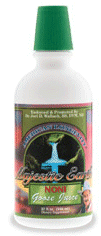 and Polynesian Noni, Chinese Tea, and a proprietary blend of Tropical Fruit Extract.
Tropical Noni (Marinda Citrafolia) has been used for hundreds of years by the Polynesian people who believe in its health benefits.
The South Pacific volcanic soils rich with minerals have become the ideal place for the Marinda fruit to flourish. Handled with care, the Marinda Citrifloria used with our proprietary Majestic Earth Noni Goose Juice is of the highest quality! Majestic Earth Noni Goose Juice is a great supplement for those interested in the benefits of the fruits from these tropical islands with the added benefit
of green tea.
Ingredients: Pure Noni Juice Concentrate reconstituted with juice from other fruits including guava, pineapple, pear, grape, blueberry concentrate, pure water, green tea extract, trace minerals, natural flavors.
Per 1 Fluid Ounce
Amount
Vitamin C
22mg
Potassium
55mg
Sodium
5mg
Majestic Earth Minerals
250mg
Green Tea Extract
60mg
$44.50 Retail Price
$34.50 Members Wholesale Price
Click To Order
Toll Free 1-888-441-4184