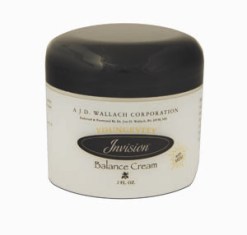 Doc Wallach continues to develop specific products for men and women. We are proud to announce the introduction of our new product, Invision
Balance Cream.
It's hypo allergenic and all natural. It includes vitamins A, E, and D. it contains 75 major and trace colloidal plant derived minerals.
Invision™ Balance Cream is absorbed into the skin and taken up by the fatty layer beneath.

Each ounce contains: wild yam, MSM, DHEA, and many more skin
nourishing nutrients! This all-new updated formula contains 2 times the wild yam extract of our previous formula (Progesterone Cream), and now also contains DHEA.

Youngevity's® Invision™ Balance Cream may be used by women and men of all ages.

DHEA (Dehydroeplandrosterone) is a hormone normally made by the body that tends to decrease with age. DHEA is also known as the "anti-aging hormone"
Directions: In the morning and at bedtime, the cream should be gently massaged by the palms of the hand into the fatty areas of the body; the lower abdomen, hips, buttock, thighs, and breast on a rotational basis. 1/2 teaspoon twice daily. take 21 days on, 1 week off. Repeat the cycle.
Be sure to try this great product today!

Printable supplement facts for this product

Invision
Balance Cream
# 40204
Click To Order
Ingredients: DI Water, Aloe Barbadensis Gel, Caprylic/Capric Triglceride, Peg-100 Sterarate, Stearic Acid, Soybean Oil Glycerin, Methylsulfonylmethane (MSM), Cetyl Alcohol, Wild Yam Extract, Polysorbate, Propylparaben Carbomer, Colloidal Minerals, Retinyl Palmitate, Dimethicone, Triethanolamine, Firming Complex, Jojoba Oil, Tocopheryl Acetate, DHEA, XANTHUM Gum Fragrance.
Toll Free 1-888-441-4184