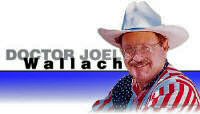 Dr. Joel Wallach, BS, DVM, ND
---
Osteo Mag
Magnesium, a major mineral essential to life, is involved in more than 300 enzyme systems in the human body.
Magnesium (Mg) is the fourth most abundant mineral in the body, with 60% in the bone and 40% distributed equally between muscle and non-muscular soft tissue.
It is in most foods, but is found mostly in green leafy vegetables. The USDA says we aren't getting enough fruits and vegetables in our diet. Refined foods, which make up most of our diet, generally have the lowest magnesium content. Magnesium promotes optimal health and wellness*.
Supplement Facts

---

Amount Per Serving
%Daily Value*
Thiamine (as Thiamine mononitrate)
25 mg
1666%
Riboflavin
25 mg
1470%
Niacin (niacinamide)
25 mg
125%
Vitamin B-6 (pyirdoxine Hydrochloride)
25 mg
1250%
Folate (folic acid)
400 mcg
100%
Vitamine B-12 (cyanocobalamin)
100 mcg
1666%
Biotin
300 mcg
100%
Pantothenic Acid
25 mg
250%
Magnesium
200mg
50%
Choline (Choline bitartrate)
25 mg
**
inositol
25 mg
**
* Percent Daily Value based on 2000 calories for adults and children over 4

** Daily Value not established

Also contains: Vegetable Stearine, Cellulose, Cellulose Gum, Vegetable Stearate, Silica and aqueous cellulose coating with vanillian.
*This statement has not been evaluated by the Food and Drug Administration.
This Product is not intended to diagnose, treat, cure or prevent any disease.